The introduction of the National Disability Insurance Scheme (NDIS) in Victoria brought remarkable change for service providers, disability support workers and people with disability.
We planned and delivered a statewide campaign to shine a light on disability support work as an attractive option for people looking to build a rewarding career doing work that matters.
Delivering on the NDIS promise of greater choice and control means attracting and retaining a workforce of sufficient size, with the right knowledge, skills and attitudes to deliver high quality, person centred support. In Keeping Our Sector Strong, Victoria's $26 million workforce plan for the NDIS, the Victorian Government identified the need for a promotional campaign as one of a range of initiatives to help boost Victoria's disability workforce to meet increasing demand for services as more people access the scheme.
The Department of Families, Fairness and Housing (DFFH) appointed Fenton to develop a campaign to dispel old myths about supporting people with disability and promote employment opportunities while underscoring the incredibly important work done every day by Victoria's disability workforce.
We began with a range of workshops for key stakeholder groups to identify key issues and opportunities for attracting people into the disability sector. Conversations with employers, service providers, government departments, disability support workers, Health and Community Services Union and people with disability confirmed that while workforce demand is surging, community awareness of what disability support work is and what it offers as a career remains low.
These conversations helped define the approach for developing the public campaign, which was to position disability support as a rewarding, flexible career with many options for personal and professional development. Campaign messages had to balance aspiration with reality and be delivered by real people who reflect the diversity of the workforce, the variety of available roles and career paths, and different types of disability.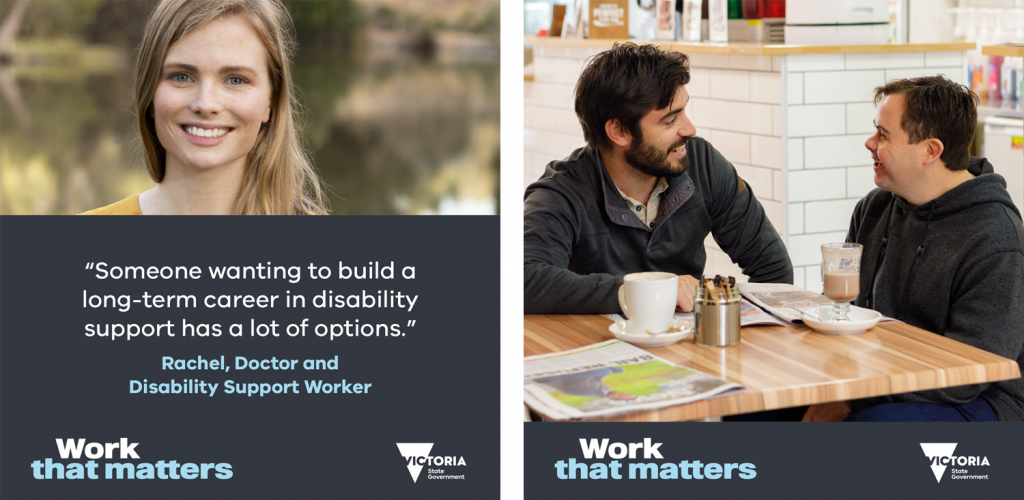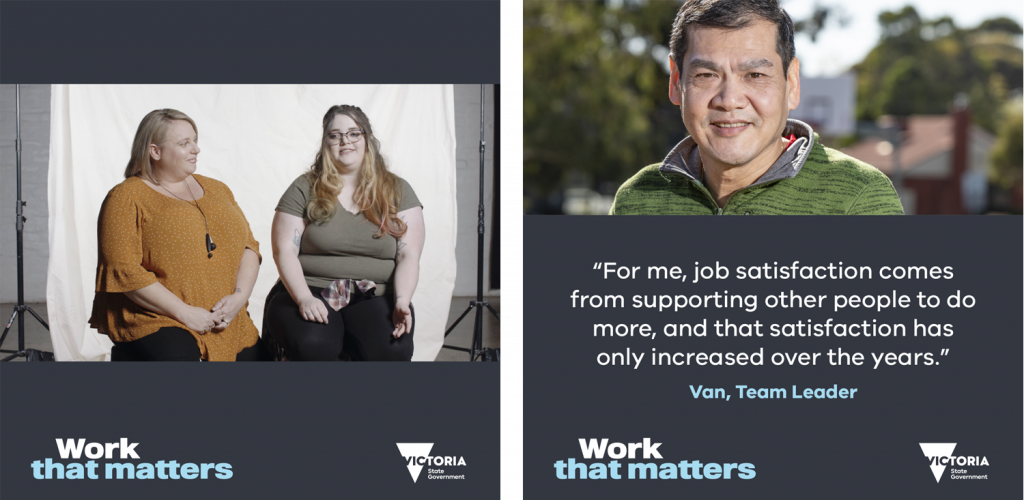 We worked with DFFH and stakeholder organisations to invite disability workers and the people they support to take part in the campaign and share their story so that career changers, students and retirees might be inspired to think differently about a career in disability support.
Combining traditional and online advertising with a program of stakeholder engagement and public relations, the Work that Matters campaign invited target audiences to discover the possibilities, with a visit to the Victorian Government's new workforce development hub as a first step. The hub offers prospective and new entrants, existing workers and employers a range of materials and resources to help them play their part in growing Victoria's disability workforce.