Following the recommendations of the Royal Commission into Family Violence in Victoria, the family violence sector has experienced unprecedented growth and demand for services.​
Changes in the sector have been accelerated by the Victorian Government's adoption of the recommendations and increased investment to expand the workforce – a community of dedicated individuals grappling with one of society's most insidious issues.
We developed an attraction and retention campaign to highlight opportunities for people from different walks of life to be part of a diverse team working to end family violence in Victoria.
Working with Family Safety Victoria, we set out to tackle a curious paradox: while the visibility and importance of family violence had markedly increased in recent years, community awareness that a specialist workforce exists to address the issue remained low. Even among those who know, misperceptions about what it's like to work in family violence services and support contributes to poor awareness of the career options available.
We created a process and a pathway towards an evidence-based campaign, including conducting developmental research, strategy development, and testing and execution of the campaign concept. Developmental research suggested that family violence work needed a major makeover – to counterbalance a traditional focus on danger and crisis and convey the new opportunities for professional development and career progression not readily associated with the sector.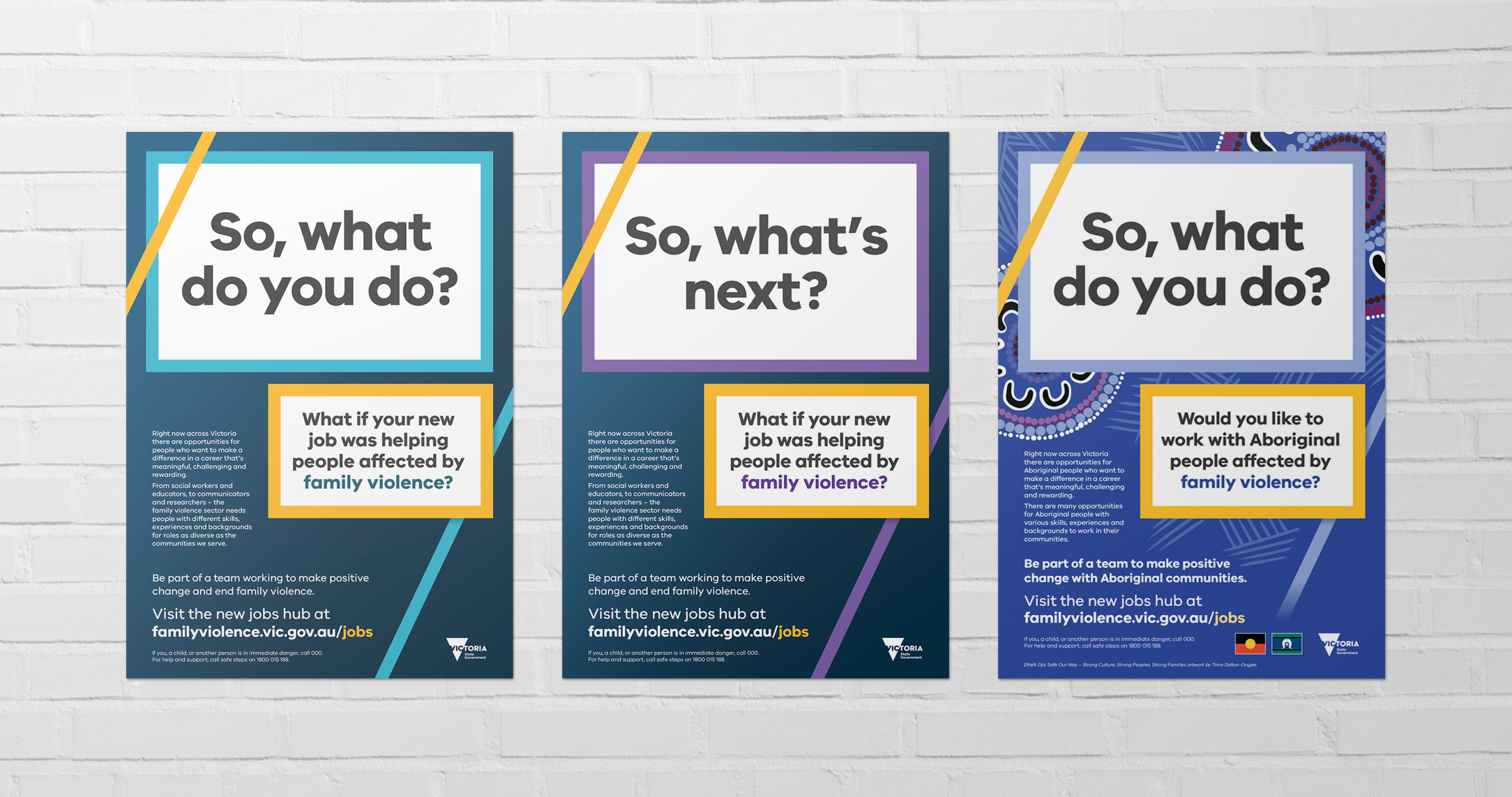 Targeting both career changers and career starters, we developed the campaign concept based around one of the most common – and one of the most loaded – questions people have about other people: 'So, what do you do?'
Whether you're in an established career or just starting out, it's a question that carries a weight of expectation around status and achievement. But we also used it as a 'what if …' conversation starter; an opportunity to talk in a new way about supporting people affected by family violence as a meaningful, challenging and rewarding career choice.
The campaign centrepiece is a suite of family violence practitioner stories that showed the variety of response and prevention roles available, the different career pathways and the diversity of people who work in the sector. A new Victorian Government family violence jobs hub provided those thinking about entering the sector with information and a jobs portal listed the latest vacant positions for those ready to take the next step.
Print and online campaign advertising was supported by a range of below the line communications that included animations, worker case studies, stakeholder campaign materials in five languages, employer resources, social content and Family Violence Career Insights, an online event where people could meet practitioners and hear their stories.


Results from the first phase of the campaign from employers, prospective workers and sector stakeholders has been strong with high levels of access to campaign information as a direct result from communication activity. Phase two is currently underway and will build on this success to target a wider range of diverse communities.